APPLE MOTION TUTORIALS
Apple Motion is a great tool for motion graphics and compositing with a powerful and adaptable toolset and I keep coming back to it as one of the fastest ways of getting great-looking results. In this ongoing series of tutorials, I hope I can help you discover more of what Motion can do. I'm assuming that you have a decent basic knowledge of how Motion actually works because these tutorials are not tailored for the novice user - there is plenty of great introductory material out there, but very few more advanced project-based tutorials such as these which help you move up the the next level. And with over 10,000 subscribers to date (and hundreds more every month), it seems a lot of you are liking them. Here are just a few of your most recent comments: In comparison to any other tutorials, SIMPLY THE BEST. --- Thank you so much, you are the very best of the best --- Motion 5 tutorials don't get any better than these. --- Apple should showcase Simon's videos. The things a creative person can do with a mere $50 app. --- The best Motion tutorials out there --- I'd just like to thank you for the truly superb tutorials on your channel - they're undoubtedly the finest on YouTube, or anywhere else for that matter. --- Best tutorials on YouTube and even Lynda.com --- I've watched thousands of tutorials but your tutorials are miles ahead. --- Awesome stuff! --- All of your tutorials are amazing and helpful. --- --- Absolutely brilliant! --- Jaw on floor, once again! --- SO cool. --- Wow! the stuff you manage to make looks incredible. --- HOLY MAC AND CHEESE. --- Damn! I think I just peed myself ... !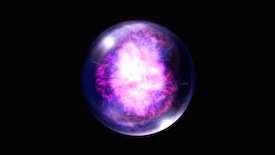 ENERGY ORB
Loosely based on one of Andrew Kramer's amazing After Effects tutorials, this one looks at creating an energy-filled 3D sphere, complete with dramatic space environment fly-through. This three part tutorial investigates a whole range of interesting techniques for creating energy or "plasma" effects, as well how to simulate a glassy 3D sphere within Motion's 2D limitations.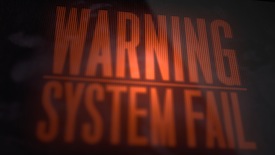 DOT MATRIX DISPLAY
In this simple tutorial, we look at creating a dramatic, close-up dot matrix display, complete with shallow depth of field camera effect for added realism. Animate your display using a powerful Sequence Replicator trick and customise the look of the display any way you choose. Sometimes great-looking effects are much more easily achieved than you'd think.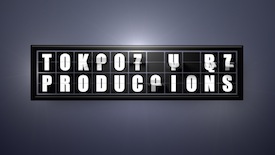 ALL NEW DEPARTURE BOARD
If you've been following my tutorials, you might have come across a previous project in which we looked at creating a flapping departure board, or Solari board as it's technically known. Whereas that version allowed you to flap from one defined string of text to another, it was a not really feasible to have multiple flaps, and it's a technique for easily achieving this that we look at in this new tutorial. If you found the previous version a little hard to get your head around (don't worry, I did too!), you should find this new version a lot more straightforward and the results are pretty impressive too.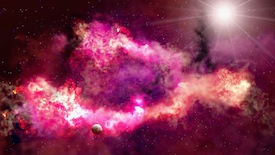 NEBULA SPACE ENVIRONMENT
If you've ever seen those awesome NASA images in detail, you'll know that a nebula is an insanely complex phenomenon, so creating one in Motion was always going to be quite a big challenge, but if you watch this tutorial you'll discover how to make something that looks very impressive. All you need is a little patience, but it's quite an addictive process when you get into the swing of it. As always, Motion lets itself down by not having a high quality fractal noise generator, but with the tricks you'll learn here, you'll discover how to work around that limitation to create a more satisfying visual complexity.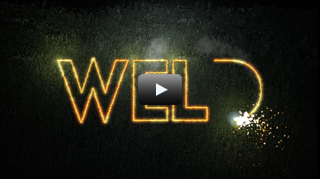 WELDING CUTTER TITLE
This is my most consistently popular tutorial to date, probably because it involves an element of pyrotechnics which always goes down well. I should try an explosion tutorial some day which doubtless would go down a storm! The two-part tutorial shows you how to create a "photorealistic" welding effect that cuts letters out of a sheet of metal, complete with sparks and smoke and other good stuff. Hopefully there are many useful tricks you can pick up from following along with this one.
SHOCKWAVE EFFECT
Another turorial inspired by Andrew Kramer, this one shows you how the build an impressive-looking explosive shockwave. The two-part tutorial shows off a few interesting techniques you may not know about - and there's some fun compositing to do at the end where you can really let rip with your own interpretation of the effect.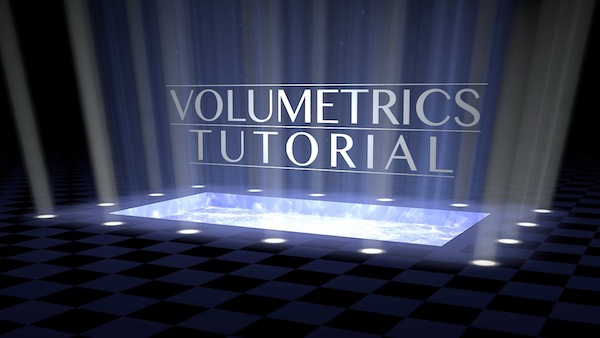 VOLUMETRIC LIGHTING
In this new tutorial we look at creating realistic 3D volumetric lighting in Motion to create a dramatic display title. Volumetrics in a 2.5D application like Motion is a bit of a cheat but this one works very well allowing you to move around the light rays in any direction.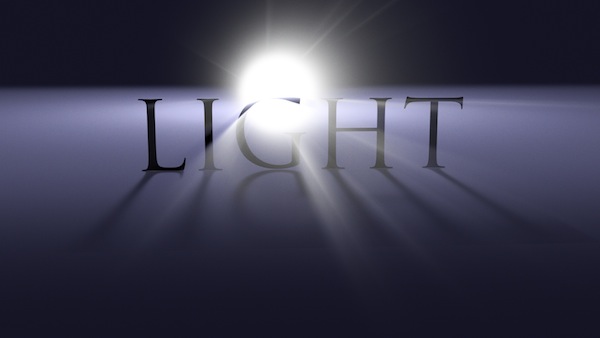 VOLUMETRIC LIGHTING - A DIFFERENT LOOK
Based on a ingenious concept by Andrew Kramer for After Effects, this tutorial looks at a different way of creating volumetric light rays that again interact correctly with the camera. Some useful tips on using behaviors to create fancy expression-type parenting links.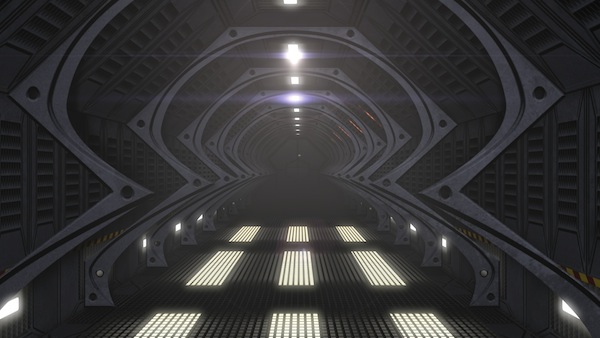 SPACE STATION LOADING BAY
I'm always interested to see how much 3D one can get out of Motion given that it's only a 2.5D application, so here's a major construction project that shows some useful tricks for building a complex 3D environment. This is a very long 3-part tutorial that runs to nearly 90 minutes, so you'll need a lot of patience to get through it, but I hope it's worth it for the many techniques on display. Links for Part Two and Part Three.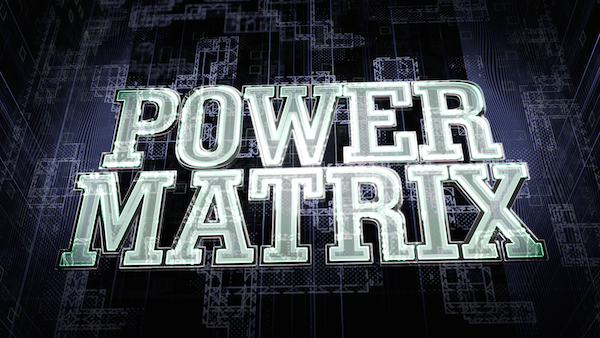 POWER MATRIX
Create this complex electrical power grid title sequence. Lots of interesting tips and tricks here, including complex animated texture creation and organic mattes. Watch part two here.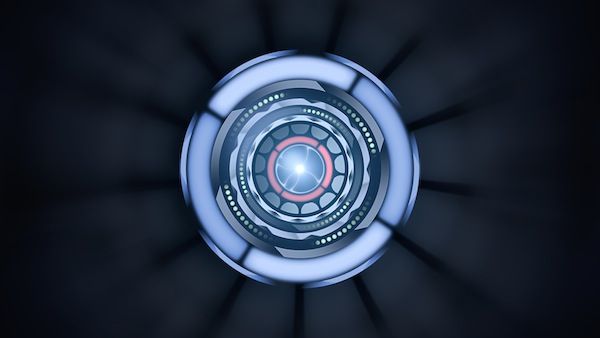 SCI-FI POWERBALL
Another tribute to the creative brilliance of Andrew Kramer, this tutorial shows you how to create a complex sci-fi instrument - spinning dials, flashing lights, cool effects. Some really interesting techniques here that are well worth knowing about.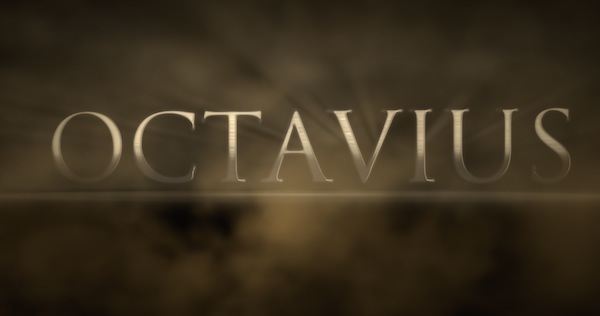 VOLUMETRIC FOG
More volumetric fun and games, this time creating the effect of fog with 3D depth and parallax. This is a useful companion tutorial to "Volumetric Lighting - A Different Look". Note that although this tutorial shows how to create this effect with a text object, you could also use it to get great-looking results with a live action image such as a window or a door.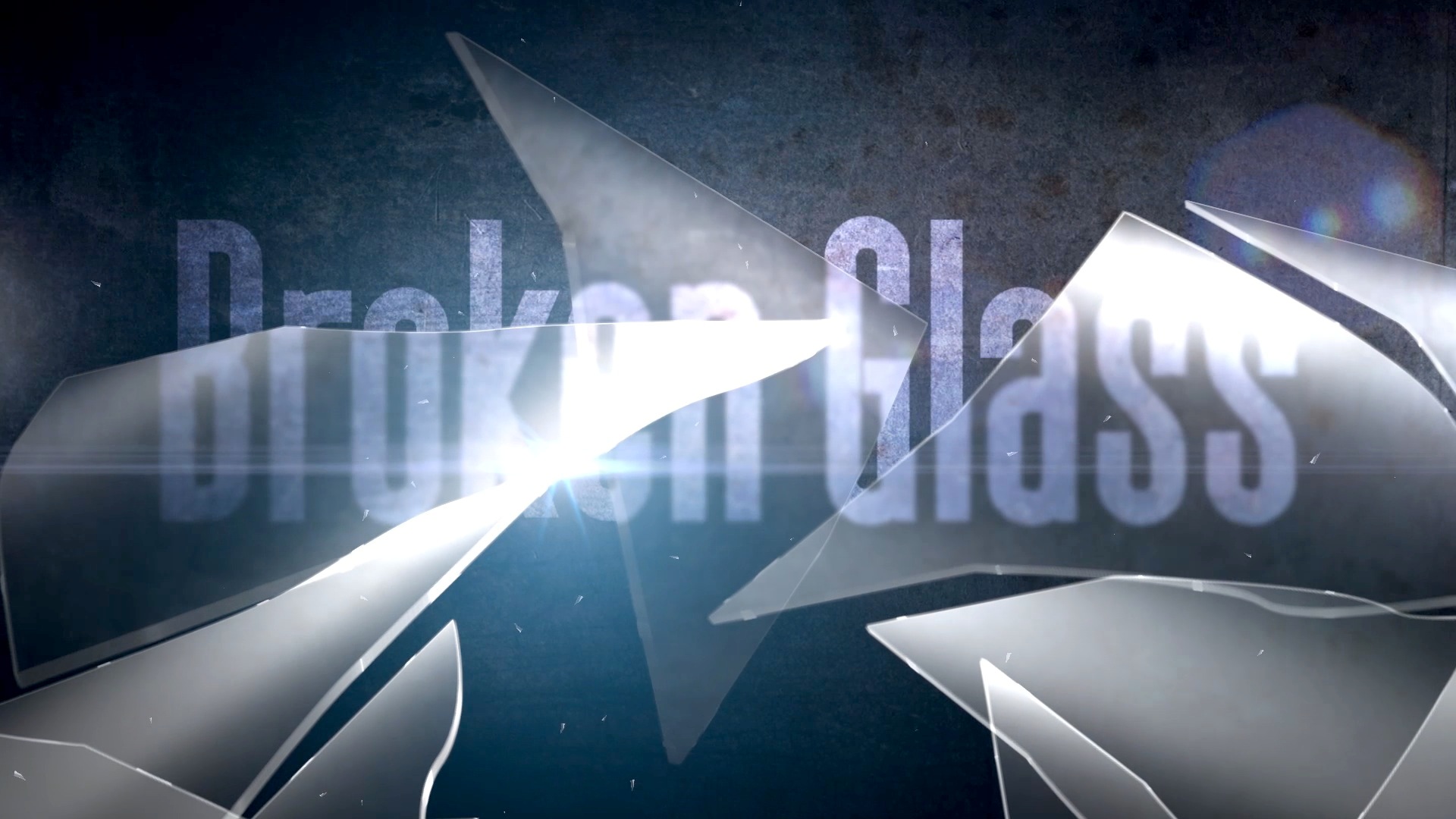 GLASS SHATTER
I was watching a very popular recent After Effects tutorial that showed off a technique for making a two-dimensional "glass" shard and thought there has to be a way of doing it in Motion that gives a much better result, is much more efficient and is much quicker to render - and it turns out there is. Create this glass shatter effect with faux-3D depth, specular edge highlights and refraction. OK, so it's not rocket science, it's not true 3D but it's quite a useful set of techniques that I hope you'll find interesting.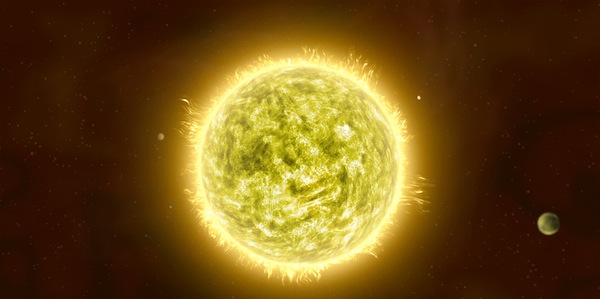 FIERY PLANET
Create this complex space scene in Motion 5 using only the built-in tools featuring lots of really interesting techniques that you may not know about for creating fiery textures and elements. For those who want to skip straight to the fun compositing stuff in Part Two, here's a download link to the pre-rendered elements from Part One.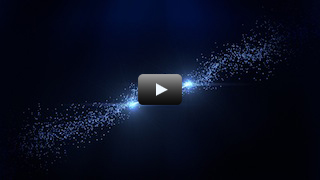 PARTICLE COLLISION
I started watching a tutorial for After Effects to create an effect similar to this one. The first thing the tutorial mentioned was that you needed to go out and buy several hundred dollars worth of third party plug-ins (the usual suspects!) to create the effect. I stopped watching at that point and wondered what it would take to do the same thing in Motion with no third party help, and here's the resulting tutorial. In addition to showing you how to make the particle systems from scratch there's also a useful tip for creating your own custom lens flare.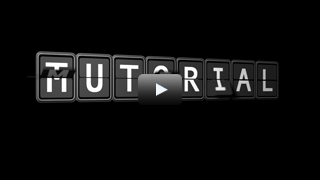 DEPARTURE BOARD TITLE
Here we will be creating a classic "split-flap" depature board graphic animation. The cool thing about this project is that, although the animation is surprisingly complex, once you've done the work of setting it up, you'll find it really easy to change the text any time you want. A good lesson in being organised from the start!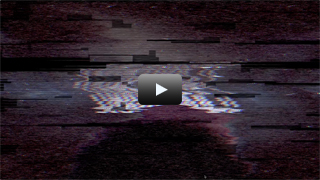 GLITCHES & INTERFERENCE
The "glitch" effect is one that is really popular right now - rather ironically since the death of tape and analogue TV means glitches are mostly a thing of the past in the real world. But they can still make for a dramatic and stylish look. Here's a tutorial to show you how to create several different glitch effects from scratch without the use of third-party plug-ins.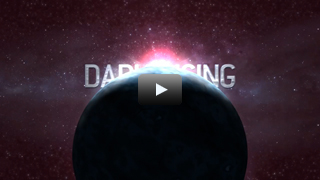 PLANETARY TITLE SEQUENCE
In this tutorial we'll be making the title sequence background featured in the Glitch tutorial, which involves creating stylised text and a planet using powerful and flexible procedural techniques. No Photoshop or library images are involved (with the exception of the starfield background). All the textures and effects are created using the built-in Motion toolset.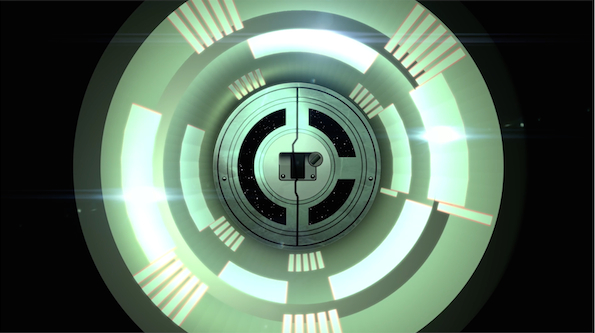 3D CYLINDERS
Three different techniques for creating 3D cylinders or tubes. There are probably others - I only remembered the third one immediately after publishing the first version of this guide! The second option is a really strange but very effective trick that you're very unlikely to have come across and it offers some really interesting creative possibilities.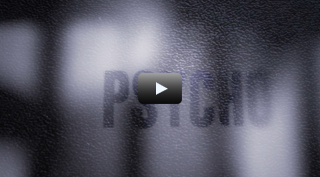 TEXT BEHIND GLASS
You often hear that Motion can't do the stuff that After Effects can do, so this was an attempt to recreate an After Effects tutorial by the great Andrew Kramer at videocopilot.net. It shows you how to create a really cool effect of text materialising behind textured glass. The interesting part of this for me was working out the different techniques required to achieve the effect in Motion and discovering that in some cases Motion could do the job more efficiently not less!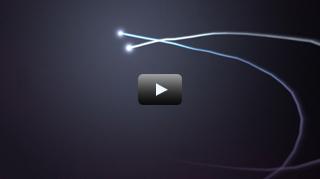 LIGHT TRAILS
Another particle-based tutorial, this one shows you how the create the effect of two light trails chasing each other across the screen. Note that there's one tricky issue with this effect and that's the way that particle emitters function in Motion - because they don't use sub-frame sampling for their position, you get "kinks" in the motion path if you move them too fast. The solution is to either slow down the animation (which you may not want to do), or slow it down and make it twice as long, the re-import it and speed it back up again. Please let Apple know that this limitation bugs you!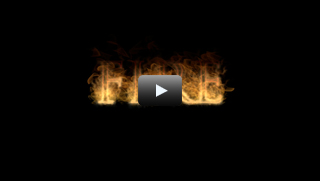 TEXT ON FIRE
This tutorial emerged out of my attempts to try and create more or less plausible-looking fire using particle systems with procedurally-animated cells and then applying that to a text object. You may find the end result less than completely convincing but you may be able to use the advanced technique I devised here to do something better. There's definitely something in it so over to you to turn into something great!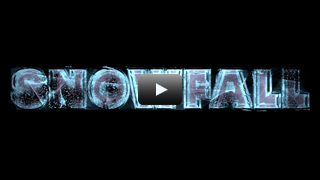 ICE TITLE
Around the end of December here in the UK, I thought it would be fun to do something around the theme of ice and snow. This tutorial shows you how to make a complex 3D-style title that crystallises out of an icy blast. Plenty of interesting tips and tricks involved in this project so it's well worth a watch. Wrap up warm first, though!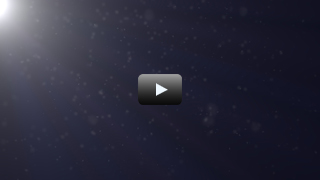 DUST PARTICLES
This tutorial was one I made to help out a user wanting to create "photorealistic" particles in Motion. It shows you how to create a mass of dust-like particles floating in a beam of light and is a good introduction to creating advanced particle effects in Motion for when you want to move beyond the rather clunky and unconvincing presets that Apple have built into the library.