WHAT'S NEW
CANNES 2013
LE GRAND CAHIER (THE NOTEBOOK)
Based on the celebrated and controversial novel by Agota Kristof, Le Grand Cahier is an unflinchingly truthful and luminously beautiful tale about the loss of innocence during wartime, from acclaimed director János Szász. The story of two twins abandoned to a harsh life in the countryside who begin to write their own ruthlessly clear-eyed moral code, Le Grand Cahier won the Crystal Globe at the 48th Karlovy Vary International Film Festival. We were privileged to produce the trailer for this astonishing film for sales agent Beta Films who have already concluded deals with France, Spain, Italy and Benelux.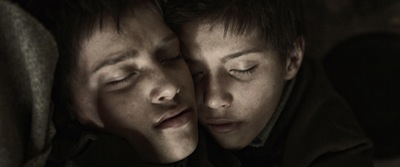 We are delighted that Hungary has selected Le Grand Cahier as its Best Foreign Language Film Oscar entry.
FRANK
Utterly original, riotously funny and ever so slightly disturbing, Frank is the story of an alternative rock band led by a genius musician who never leaves off wearing a cardboard head. Directed by Lenny Abrahamson, and starring the incomparable Michael Fassbender as Frank, Maggie Gyllenhaal and the incredibly funny and charming Domhnall Gleeson, the film is produced by Element Pictures. We had an amazingly fun time cutting the sales promo for Protagonist Pictures and immersing ourselves in the extraordinary world of Frank and his very special music.
BERLIN EFM 2013
THE DOUBLE
Protagonist Pictures came to us to make the promo for the eagerly awaited second film from Submarine director, Richard Ayoade. The Double which stars Jesse Eisenberg (twice!), Mia Wasikowska, Wallace Shawn and James Fox, is a brilliantly inventive comedy about a man whose life is turned upside down by the sudden and unexplained appearance of his doppleganger.
CALVARY
We were also very excited to be asked by Protagonist Pictures to work on the promo for Calvary, the new film from writer/director John Michael McDonagh. Calvary represents the flip-side of McDonagh's massively successful comedy The Guard, which also starred the incomparable Brendan Gleeson. This time, instead of a cop with dubious principles, Gleeson plays a good priest in a small west coast Irish town facing a mysterious murder threat. Funny, dark and deeply thought-provoking, the films also stars Kelly Reilly, Chris O'Dowd, Dylan Moran and Aiden Gillen.
A THOUSAND TIMES GOODNIGHT
A Thousand Times Goodnight is a powerful drama from acclaimed director Erik Poppe, which stars Juliette Binoche as a war photographer whose passionate commitment to her work is tearing her family apart. Global Screen came to us to create the sales promo which was very well received at the market, securing deals for Spain, Brazil, Portugal, Middle East, Taiwan, Benelux, France and USA based on the promo alone.
SXSW
KELLY+VICTOR
One of the highlights of the year so far for us is the indie gem, Kelly+Victor, for which The Works International commissioned us to create the trailer to play at SXSW. Based on the Niall Griffiths novel, and directed by the hugely talented Kieran Evans, the film tells the story of a deeply intense love affair with disturbing and tragic consequences, and stars Julian Morris and the breathtakingly brilliant Antonia Campbell-Hughes. Outstanding cinematography conjures a haunting poetry from its Liverpool locations.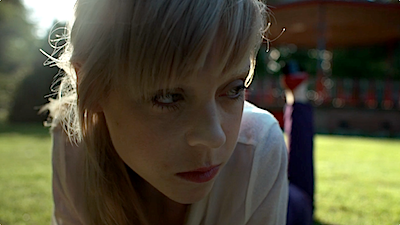 SONET FILM
We are delighted to be continuing our relationship with Sweden's Sonet Film for whom we produced the trailer for the Kurdistan-set charmer, Bekas.
ESKIL & TRINIDAD
From Bekas producer Peter Possne and director Stephan Apelgren, Eskil & Trinidad is a strange, magical and heart-warming family film set in a stunning and remote corner of Sweden, where a lonely boy dreams of escaping from the cold and the misery of ice hockey practice by means of an epic but improbable nautical adventure. Eskil & Trinidad stars Linus Oscarsson, Ann Petrén and Torkel Petersson.
VI
Bekas producer Sandra Harms came to us again to produce the trailer for Vi, the dark and brooding story of a doomed relationship overshadowed by obsession and manipulation. From acclaimed director Mani Maserrat and writer Jens Jonsson, Vi features outstanding performances from Gustaf Skarsgård, Anna Åström and Rebecca Ferguson.
UK TRAILERS
MIDNIGHT'S CHILDREN
It was a particular privilege to be asked by eOne to work on this dazzling film of one of the most celebrated novels of recent times, the Best of Booker prize-winner, Midnight's Children. Adapted and narrated by Salman Rushdie, the film is directed by Deepa Mehta, the acclaimed director of the Fire, Earth, Water trilogy. In addition to the theatrical trailer, we are also producing the TV and radio campaigns.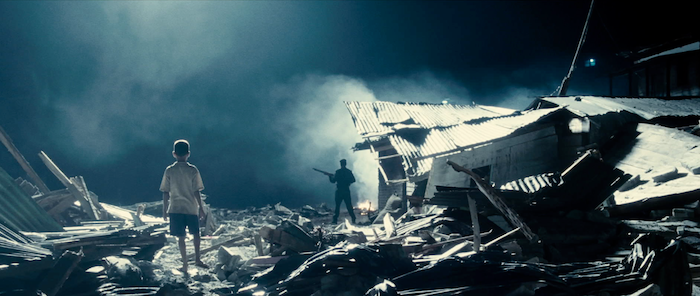 MY BROTHER THE DEVIL
Verve Pictures invited us to produce the theatrical trailer for My Brother the Devil, Sally El Hosaini's remarkable and individual story of two brothers caught up in Hackney's gang culture, a critically acclaimed study that goes well beyond the stereotypes associated with the genre.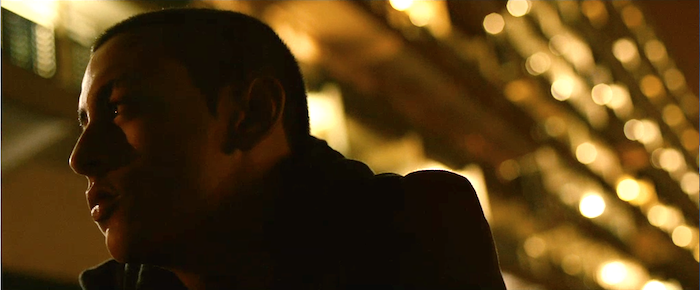 SEARCHING FOR SUGAR MAN
One of the highlights of the year was working for Protagonist Pictures and Studio Canal on the trailer for the Sundance-winning documentary Searching for Sugar Man, from acclaimed producers Simon Chinn and John Battsek, the genuinely astonishing true story of long-lost rock musician Rodriguez. The film justly earned its Best Documentary Academy Award for its deft handling of an extraordinary mystery and its heartwarming dénouement.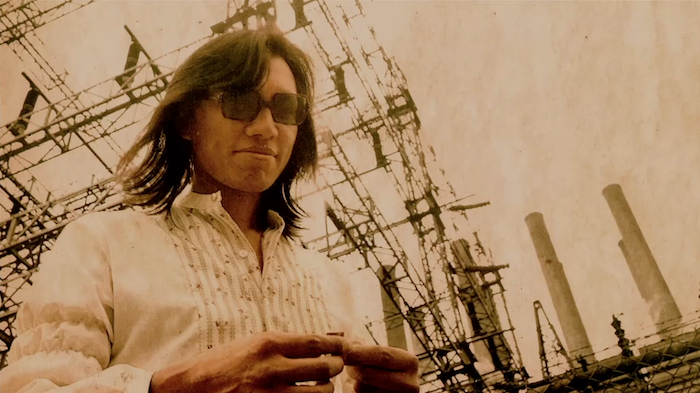 MORE EUROPEAN TITLES
We are continuing to build on our work with European producers and distributors on trailers for a range of interesting, original and challenging films.
ALLES IS FAMILIE
Alles is Familie is the all-star follow-up to the smash hit Alles is Liefde, one of the biggest Dutch films of all time. For producers Topkapi and distributor A Film, we produced both an early teaser trailer and more recently the full theatrical trailer for the film, so we can reasonably claim that our Dutch is improving - well, suffice it to say, we are confident about ordering pancakes.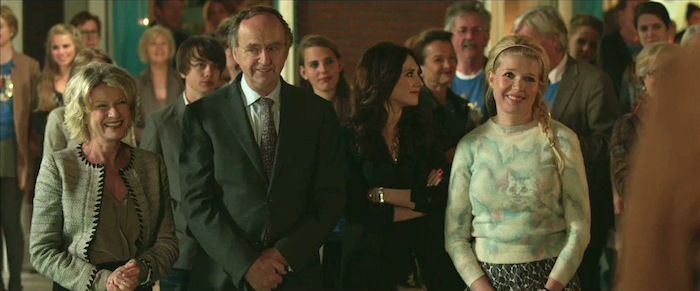 ALLEEN MAAR NETTE MENSEN
Another Dutch title we have enjoyed working on in 2012 is Only Decent People (Alleen Maar Nette Mensen), an adaptation of the acclaimed autobiographical novel by Robert Vuijsje. We created the trailer for producers Topkapi and Netherlands distributor Wild Bunch and the film opened at number one and has gone on to record a very impressive 300,000 admissions domestically bringing its box office take to nearly 2.5 million Euros.
SÂDHU
From acclaimed Swiss documentary maker Gaël Métroz and producers Francine Lusser and Gérard Monier, Sâdhu is a remarkable, funny, sad and inspiring portrait of a holy man who spent eight years in a cave at the source of the Ganges before embarking on a pilgrimage back into the world which leads him to question whether he is cut out for the life he has chosen. We made the theatrical trailer for Tipi'mages who have recorded oustanding box office results with the film.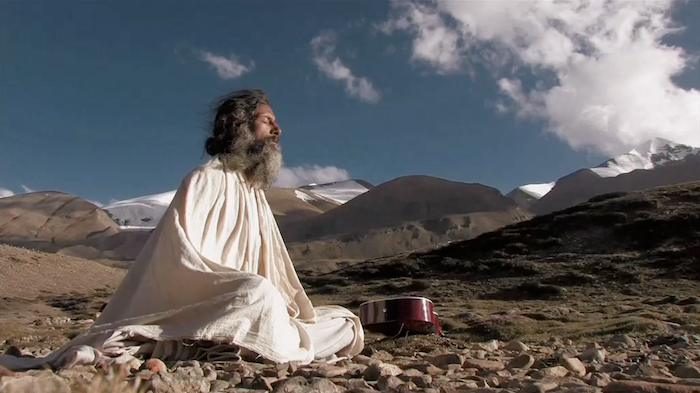 BEKAS
One of our favourite trailer projects of 2012 was for Bekas, the feature debut from award-winning director Karzan Kader and producer Sandra Harms, for Sonet films. A Swedish/Kurdish co-production, Bekas is a very special movie that it is impossible not to like, the story of two orphaned boys in Iraqi Kurdistan who sneak in to see the movie Superman, and decide to travel to America ("it's not that far") to track down the superhero - on a donkey, called "Michael Jackson".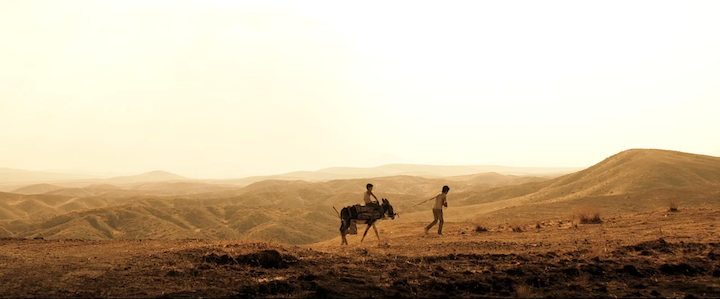 AFM 2012 PROMOS
HOW I LIVE NOW
How I Live Now is the hotly anticipated new film from director Kevin Macdonald, starring Saoirse Ronan and based on the prize-winning "kidult" novel by Meg Rosoff. Protagonist Pictures came to us to cut a first look promo for the film.
STILL LIFE
Still Life, the directorial debut of producer Uberto Pasolini, is one of the most poetic, endearing and masterfully understated films we have worked on in a very long time and confirms Eddie Marsan's place as one of the very best actors in the world today. Embargo Films came to us to create the sales promo for this uniquely lovable story of one man's unsung mission to honour the lives of those the rest of the world has forgotten.
RETWEASER
How short can a trailer actually be and still be effective? What began as a favour to supply content for a blogpost on Vine "tweaser" trailers by digital agency Glasseye soon developed into a small obsession after realising how enjoyable and addictive it was to take a trailer and distill it down to six seconds. Finding the essence of a story is what we do as trailer editors so doing that to old trailers from Jaws to Pulp Fiction, from Taxi Driver to The Exorcist, is both challenging and liberating and the different results are always fun to see. Hopefully they are enough of a tease to make people want to revisit or discover the films. They've certainly sparked the interest of film fans with coverage from First Showing, Gizomodo, The Verge and Indiewire. Follow us on Vine or Twitter to catch up with the ongoing project.